Saija is situated in the Land of National Parks. You can reach 4 unique Finnish National Parks and 1 recreational hiking area within a 1 to 1.5. hour drive f.e. by rental car.
Hossa
Syöte
Oulanka
Riisitunturi
Kylmäluoma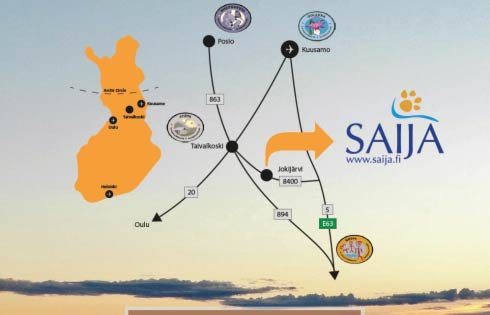 A natural forest area and crystal clear waters. Highlights are the canyon lake Julma Ölkky and the ancient rock paintings at Värikallio Cliffs. The Visitor Center has a bike rental and a coffee place. Hossa is near the Russian boarder.
Visit the surging rapids and rugged riverbanks by the ice ages, along the Small Bear Trail "Karhunkierros" (12km) with starting point at Juuma. Oulanka is situated North of Kuusamo and Ruka.
The landscape with its rugged hills and old spruce forests create an attractive setting for hikers. Best starting point for biking and hiking is the Visitors Centre with a coffee place and bike rental. Syöte is situated north-west of Saija.
Fells of the hanging bogs and snow-crowned spruces. There are 13 tops more than 400 meters above the sea level, the highest one is Riisitunturi fell. It is located between Posio and Ruka.
The landscape is dominated by forested, narrow, steep-sloped, high ridges and lakes. You can reach Kylmäluoma area also by bike and on hiking trails. Good lake fishing opportunities.
For more information check: www.nationalparks.fi
Maps are available also at Saija.